Have you ever wondered WHY you're doing something? WHY you're slaving over your job? WHY you're in a relationship? WHY you're playing the game of baseball?
In a previous post, I shared the moment when I found my WHY. It literally changed the way I experienced life.
And for this, I'm forever grateful.
Now I want to help you find your WHY to live a more fulfilling and meaningful life.
For starters, I'll share with you my WHY: to help others. Every morning I wake up, I'm grateful to be alive, and then I ask myself, "How can I help someone today?" This helps me set the tone for the day. Every day has meaning and purpose. It wasn't always this way. It was something I had to learn.
Many go through life mindlessly doing tasks. There is little to no personal attachment to the task itself. There is little meaning or purpose behind what you do. Have you ever stepped back and asked WHY you do what you do? Is it just for the money? Is there something deeper? Do you know WHY you slave through your work?
When I found my WHY, I realized that I didn't teach hitting just for the money. The purpose of the thousands of hours spent working in the cage was driven by my WHY – to help someone. Simple as that. I found great joy in seeing a hitter walk into the cage at a low point in their career and then walk out feeling like they had received a new lease on life. To me, that's what it was all about: impacting the lives of others in a positive manner. Isn't that WHY we are on this Earth to begin with?
How Do I Find My WHY?
I'm not the expert on finding your WHY, I'll leave that up to someone like Simon Sinek. But I will share a few methods that have worked for me.
I love to take walks. It's therapeutic for me, not to mention it helps me exercise and keep me healthy. Walks help me empty my mind, sift through tough decisions and most importantly help me reflect on life.
As Soren Kierkegaard once said, "Life can only be understood backwards; but it must be lived forwards."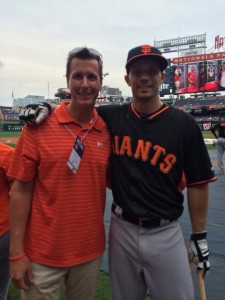 During my walks, I was doing a lot of reflecting. I asked myself the same questions I asked you at the beginning on this post. WHY did I teach hitting? WHY did I wake up every day to go spend 6-10 hours in a cage? WHY did I drive and fly to all parts of the world to teach hitting to players and coaches?
During this time of reflection, I was doing a few little jobs on the side. I had a family to support at that time and even though the money was good being a hitting coach, I still was chasing the almighty dollar in hopes to support my family for years to come. I didn't have the comfort of working for an MLB organization with pensions, etc so the only person who was going to take care of us in the future was me. I put a lot of pressure on myself to make sure my family would be taken care of.
During my walks, the most important question I asked myself was WHY was I doing these little side jobs?
The answers were powerful.
First, the side gigs were just ways to make money. I drifted through a job that I wasn't invested in. It left me empty, unfulfilled, and worst of all, it pulled me away from the very family I tried to provide for. It doesn't mean I didn't work hard and give my best, but I didn't have any personal connection with the jobs at the end of the day. I wasn't excited to get out of bed to work these side jobs, thus the time spent was not fulfilling my WHY.
Second, I discovered I was a hitting coach because I wanted to help someone, not only with their swing but most importantly, with their life. I wanted to be a mentor – to guide them through the tough times on and off the field. I enjoyed inspiring others and baseball was the platform that enabled me to do those things. I was attacking each day with newfound purpose in everything I was doing. It was WHY I got out of bed every morning!
What Do You Want Your "dash" To Look Like?
When we die and are laid to rest, our tombstones all read the same. The year we are born, and the year we died, separated by a dash. It's a simple little dash. Nothing fancy. Nothing big. This tiny mark of punctuation represents what we stand for, what or whom we impact, and ultimately what legacy we leave behind. What do you want your dash to look like?
I sent out a Morning Message recently:
Are you living your life in a way that is worth telling stories about?
Inspire someone today.
Love,
KW
Who will tell your story? Will your dash be filled with examples of how you lead and inspired people with your WHY? Will you have helped others find their WHY? Or will your dash represent how many hours you slaved at the office? How much money you had in your bank account? Or how many hits you had in your career?
Do you know WHY you do what you do? Take time to reflect because your WHY is intimate. It's individual. It's genuine. It's a complete understanding of YOU. It's filled with purpose. It's clarity. It's natural.
Fill your dash with your WHY. Life is too short to only tell someone else's story.
Love,
KW
---
For more than a decade, Kevin Wilson has been one of the most respected hitting coaches in the game. He works behind the scenes as a private hitting consultant to some of the best hitters in Major League Baseball. In 2013, Kevin was the hitting coach for the USA Baseball 18U National Team. Team USA beat Japan for the Gold medal at the IBAF World Cup in Taichung, Taiwan.
He is the author of the Amazon #1 Best Seller The #GoodBatting Book and co-hosts a popular podcast, KWB Radio, that showcases unique conversations with the pros. If you want Kevin to speak at your next event or if you want take advantage of his popular 2-day KWB Experience for players and coaches, contact Kevin today!
Follow Kevin on twitter @KWBaseball and visit his website KWBaseball.com