EPISODE 47: WHAT IS YOUR VIEW FROM THE BATTER'S BOX?
The boys are helping you look at hitting through a different lens in this episode as Joe Ferraro @FerraroOnAir and Kevin Wilson @KWBaseball walk you out to home plate and share with you a different view of hitting.
We dive into Chapter 1 of The #GoodBatting Book as KW explains how he teaches hitters to grow their confidence by taking their preparation to another level.
Click here to listen to Episode 47!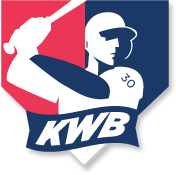 SHOW NOTES
Links Mentioned On The Podcast
Every Thursday you can read a new post by KW at KWBaseball.com/blog
Joe's NEW 1% Better Podcast
Grab a copy of The #GoodBatting Book.
Where to Find Joe and Kevin
Twitter @FerraroOnAir
Blog FerraroOnAir
Twitter @KWBaseball
Website KWBaseball.com
_____________________________________
Subscribe to KWB Radio on iTunes and Stitcher
Make sure you follow the show on Twitter at @KWBRadio