EPISODE 45: TEACHING THE MILLENNIAL
Joe Ferraro @FerraroOnAir sits down with Kevin Wilson @KWBaseball to discuss what it's like to teach today's ballplayer. Joe digs deep to bring out the tricks that KW uses when teaching the modern hitter. It gets candid at times but if you're truly looking to communicate better in order to get results on the field, this episode gives you that and much more!
Click here to listen to Episode 45!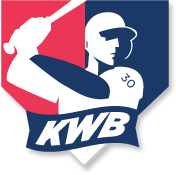 SHOW NOTES
Links Mentioned On The Podcast
Sign up to be inspired by Joey Jett! Text 81010 and enter @1better
The season is right around the corner! Grab a copy of The #GoodBatting Book.
Be The Best Clinic BeTheBest.com
Where to Find Joe and Kevin
Twitter @FerraroOnAir
Blog FerraroOnAir
Twitter @KWBaseball
Website KWBaseball.com
_____________________________________
Subscribe to KWB Radio on iTunes and Stitcher
Make sure you follow the show on Twitter at @KWBRadio