KWB Experience
1-day or 2-day experiences
Includes classroom style sessions where the mental part of hitting is discussed and practiced.
Workouts are customized to fit the needs of the team or organization.
Each player receives a KWB packet which contains the same material our professional hitters use on a daily basis.
NEW! Each team or organization receives a complimentary batting tee, courtesy of Tanner Tees.
Please contact us for rates and other information!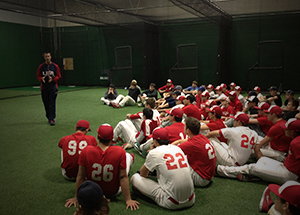 Professional Hitters
Do you want to work on your swing and/or a new approach in the off season? Need a quick fix and/or evaluation during the season? Take advantage of these great opportunities to maximize your swing and potential at the plate like so many other professional hitters have done.
Please email professional@kwbaseball.com for rates and other information!
Skype Consultations
Take advantage of our classroom-style Skype sessions! Our sessions are 45 minutes in length and have been utilized by numerous coaches to help their hitters understand the importance of learning the mental, emotional and physical side of hitting.