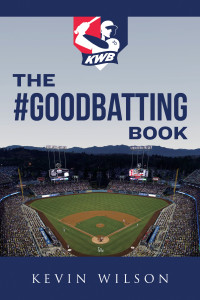 #1 Amazon Best Seller
By: Kevin Wilson
For more than a decade, Kevin Wilson has been one of the most respected hitting coaches in the game. He works behind the scenes as a private hitting consultant to some of the best hitters in Major League Baseball.
Now, for the first time ever in print, he takes you inside the mental game of hitting, explaining things you wish you knew before you got into high school, college or professional baseball. The term #GoodBatting is a mindset. It's a feel. It's simple. It's based on your WHY. It's filled with purpose and intent. It's individual. It's genuine. It's a complete understanding of YOU. It's confidence. It's clarity. It's controlled. It's repeatable. It's natural.
Kevin takes you all-access inside his world of #GoodBatting. It's not only a mindset, but it's a way of life.
For orders of 25 or more books, please contact us for special pricing!