EPISODE 46: WHERE DO HOME RUNS COME FROM?
The boys are back!! Joe Ferraro @FerraroOnAir and Kevin Wilson @KWBaseball are back in-studio to bring you Episode 46 of @KWBRadio! KW asks Joe where he's been the past 9 months as he reveals the details of his absence – the 1% Better Project. Joe takes back control of the show and asks KW about the #GoodBatting Blog, getting him to elaborate on a few posts including "Where Do Your Home Runs Come From." Finally, KW reveals the vision and plan for the new and improved KWB Radio!
Click here to listen to Episode 46!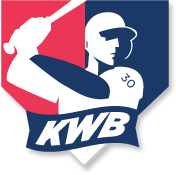 SHOW NOTES
Links Mentioned On The Podcast
Every Thursday you can read a new post by KW at KWBaseball.com/blog
Joe's NEW 1% Better Podcast
Grab a copy of The #GoodBatting Book.
Where to Find Joe and Kevin
Twitter @FerraroOnAir
Blog FerraroOnAir
Twitter @KWBaseball
Website KWBaseball.com
_____________________________________
Subscribe to KWB Radio on iTunes and Stitcher
Make sure you follow the show on Twitter at @KWBRadio